How to Create the Perfect Open Concept Office Space
The open concept office is more popular than ever — particularly within the tech and creative industries. This alternative type of workspace fosters collaboration, encourages creativity, and brings employees and managers together.
Open offices aren't just thrown together, however. Although they're fluid and may seem random, a lot of planning and hard work goes into their creation.
By implementing an open floor plan office in your place of work, you can drive efficiency in the office and boost morale — but only if you know how.
What is an Open Concept Office Floor Plan?
As the name suggests, an open concept office plan creates a working space in which an entire team or department can work together. Employees share the same space on the same floor, although they may sometimes be given a little privacy with partial screens and dividers.
Designed correctly by people with first-hand experience, an open concept office encourages the social aspect of working. Sharing ideas and asking for help becomes more natural, and an authentic work community develops as a result.
Asking a team of employees to share a single room and remain focused is the easy part — making it work requires specialist knowledge, careful planning, and the right office furniture.
Remember: If you can't make the open office concept work in your current premises, it might be time to move to a larger office.
Origins of the Open Concept Office
The origin of the open office plan office layout dates back to the mid 20th century. At the time, social norms were changing fast, and anything that separated people into groups might have been considered a symbol of fascism or oppression. After all, this was the era of the Berlin Wall.
 However, one of the first open offices in the world was created in 1939. Leading architect Frank Lloyd Wright designed a workspace for the headquarters of SC Johnson in Wisconsin — and it quickly became a huge hit with employees. Covering around half an acre, this huge open space would eventually earn the nickname "The Great Workroom."
Advantages of an Open Office Floor Plan
An open office is still a controversial subject in certain industries. Getting the balance right between collaborative working and keeping employees focused is a difficult one to get right. But when it's executed correctly, an open office delivers a range of impressive advantages.
Collaborative Breakaway Spaces
Sharing ideas and brainstorming sessions are always easier in open offices. There are no barriers to effective and open communication, which allows employees to discuss issues with ease and hold effective team meetings at a moment's notice. And because conversations take place in an open space, others are free to listen and, if appropriate, contribute ideas.
Transparent Office Culture
There should be no secrets among peers when you're trying to create a community spirit in your workplace. Cliques and favouritism can quickly destroy morale and create division. An open space leaves nowhere for clandestine conversations. Everyone is included in every aspect of working life, and that type of transparency is great for fostering togetherness within a team.
Uses Space Efficiently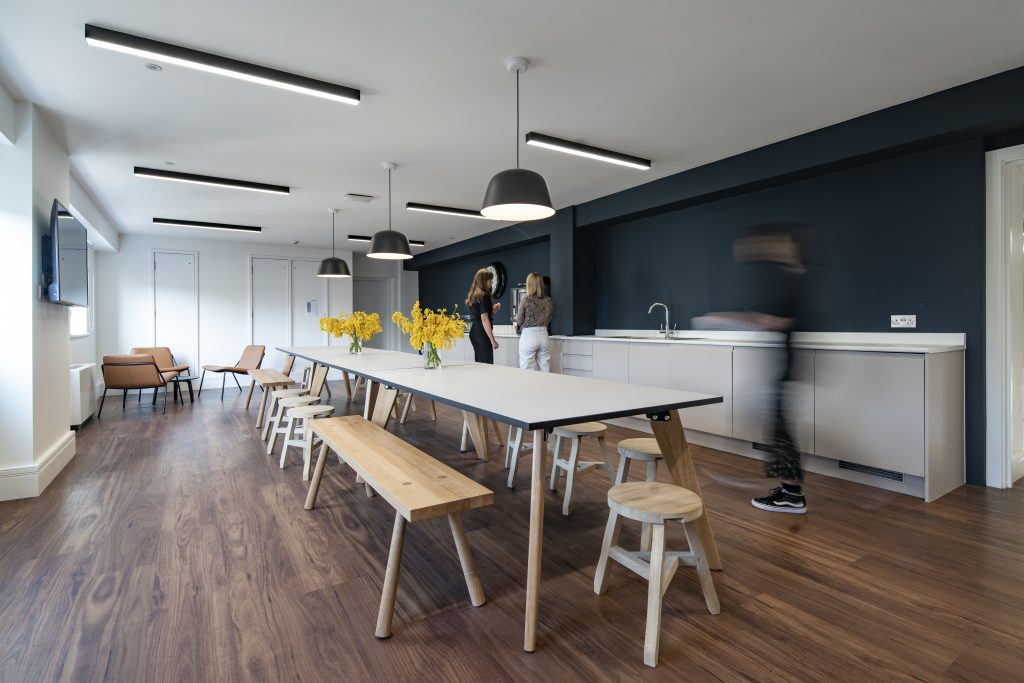 Removing walls, full partitions, and screens from an office releases precious space. And you can utilize this space to create a layout that fosters communication and collaboration. Without zones and sections in your office, you won't need as much floor space to accommodate everyone. With the right open office space floor plan, you can minimize your leasing costs.
Increased Communication Across Teams
The absence of partitions and walls is a great way to nurture a culture of open communication within a team. Over time, bouncing ideas of colleagues within earshot becomes natural — even expected. Effective communication leads to collaboration, increased efficiency in the office, and a spirit of trust between employees.
Disadvantages of Open Office Plans
Of course, there are a few drawbacks to the open office. These must be considered and weighed against the advantages before you settle on a design. This style of workspace is not appropriate for every business.
Increased Distractions
Open offices are filled with distractions. The background noise caused by conversations, footsteps, moving furniture, printers, mobile phones and ambient sound can affect concentration and focus levels. It's easy for a tired employee to become fixated on something that's happening in an open office, which can affect their productivity.
Lack of Privacy
Not all ideas and conversations are suitable for sharing with an entire workforce. There may be times when sensitive issues that affect other employees need to be discussed in private. An office space without partitions or walls leaves few opportunities for discretion and privacy, so we would advise utilising our meeting booths as they provide both privacy and style.
Increased Spread of Illness
The way you work in the office after COVID-19 has probably changed drastically, and it may continue to change over the coming years. Social distancing became a legal requirement, and many people were forced to work from home. An open office layout isn't conducive to stopping the spread of viruses and diseases. When people share the same space, the chances of airborne illnesses spreading through the workforce increase significantly.
How to Design Your Open Office
Taking the time to carefully plan your open office now will save you time in the future. While an open office prioritizes space over privacy, it still requires logical thinking. The perfect layout needs to complement your operation, so break each aspect of your layout down and address it according to the needs of your business.
Workstations
How do you want your office configuration to work? Do you want every employee to have their own desk? The Arkitek Glass Office Desk combines style and functionality with a compact design.
If you want people to share desks for regular collaboration and easy communication, choose something that's large and designed for several chairs. Something from the Evolution range of bench desks is ideal.
Collaborative Spaces
Collaboration is great for creativity, productivity and instilling a teamwork ethic. Your collaborative space should be set aside from the everyday work area. The addition of a few reception reception sofas is conducive to relaxation and openness. Add a few bench desks and single, upholstered chairs, and leave a space for presentations.
Formal Meeting Rooms
The focal point of any meeting room should be a desk. While an open plan office is great for everyday working, a formal meeting room gives your get-togethers a more traditional setting — essential for discussing serious issues. Albion Studio Frame Meeting Tables are as stylish as they are practical, and they set the right tone for more formal working sessions.
Informal Breakaway Areas
A change of scenery is often conducive to creative thinking and increased concentration. Whether you want to brainstorm ideas with colleagues or put a few heads together to create a strategy, an informal breakaway area provides the perfect setting.
Soft seating and a range of small tables can make this type of workspace conducive to collaboration. Or if you like to hold working lunches (or non-working lunches...) the Urban Dining Set is perfect. Alternatively, tub armchair strikes the right balance between comfort and functionality.
Dedicated Focus Areas
All open offices need areas for more focused working that requires a quieter environment. These spaces should be carpeted, but they should feature formal office tables and chairs. Visual stimuli should be minimized, and there should be ample space for solo working. A Titan Ergonomic Office Chair, for example, creates an upright seated position that's conducive to focused working.
Social Spaces
An effective open office should strike the perfect balance between work and socializing. Giving your employees a comfortable space to take a break and catch up with colleagues can increase productivity levels over time. Social spaces should always prioritize comfort, but functionality and style shouldn't be forgotten. Make a group dining set the focal point of your social space. And add a few sofas and tub chairs to give your employees options.
Our Tips for Planning Your Open Office
What is an open plan office? It's actually a general term used to describe a shared workspace. But what it means to you requires careful thought. How do you use your space? What setup will get the best out of your team? To help you maximize efficiency in the office, we've compiled our best planning tips.
Optimize for Movement
The whole point of an open office is to encourage collaboration and communication. Your employees need to be able to move around freely if they're going to create this type of working environment.
Create clear pathways to every area of your office. Choose office desks and chairs that can be moved easily, as your initial designs might need tweaking. And experiment with multiple layouts. Watch how your employees move around. If you notice bottlenecks, change things around.
Create Quiet Spaces for Focus
One drawback of having an open workspace is distractions in the office. There will be times when a clear mind, a quiet environment and a distraction-free workspace are required. This makes a quiet space essential. Choose a corner of your office that's as far away from communal areas as possible. A formal office desk and chair can set the right tone.
Keep Future Growth in Mind
Whether you currently have a hybrid work model or you're planning for strong growth, you need to be able to flex your office capacity up and down. This requires a flexible space and office furniture that can be moved around with ease. Create an office layout plan for different team sizes so you're always ready to react to significant personnel changes.
FAQs
When did open office plans become popular?
Open floor plans were first developed in the 1930s. Acclaimed architects such as Frank Lloyd Wright and Wolfgang Schnelle blazed a trail in open office design, as they believed walls and partitions create division and suspicion in the workplace.
Are open floor plans more productive?
This depends on the nature of your business. Creative teams often thrive if they have the ability to openly communicate and bounce ideas around. Open plan spaces are also conducive to teambuilding, trust, and openness. However, businesses that rely on discretion, such as those in the legal profession, may not be suited to this type of working environment.
Where should a manager sit in an open plan office?
One of the great advantages to having an open plan office is the way managers and employees work together as a team. If your business is one that can benefit from collaborative working, the manager may find it's best to change where they sit based on the day's priorities. However, it's always a good idea to have a dedicated space where privacy is guaranteed. Just make sure it's somewhere that's prominent and visible throughout the office.
How do you make open plan offices more productive?
Whether you choose a cubicle layout or a series of shared desks, there are a few tried-and-tested ways to make your open offices more productive:
Be flexible in your approach — different layouts work for different situations

Encourage collaboration and openness to create a culture of trust

Create a quieter area away from your everyday desks for focused working

Create breakout areas for group working and brainstorming

Always include your employees in your planning — they'll tell you what works and what doesn't

Mix managers with employees to instil a culture of cooperation

Choose ergonomic seating that can be quickly adjusted according to the user's preferences

Don't neglect office interior design — certain colours, styles, and materials are conducive to relaxation, concentration, and productivity